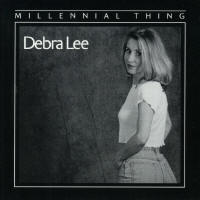 Millennial Thing

"Solid exciting musicianship"
"Debra Lee sings with an awareness of a global visionary. Her melodic, powerful female vocal and engaging ballads highlights the human condition, while uplifting humanity with jazzy, pop, Americana feel-good lyrics and catchy guitar riffs."

"Beautiful melodies."
" ...well thought out, well produced and contain enough good hooks in some of the songs to warrant a strong look from the major labels."
Millennial Thing by Debra Lee Slot-1 on ITunes
Available at your favorite retail store..
Need a physical CD for your collection?

The impulse to art is a universal attribute of intelligence...and the most enduring human value of all is the tendency toward artistic expression. Artistic expression is intrinsic to human intelligence…" Jose Arguelles,
GALACTIC TIME
Millennial Thing revisited
2012 seemed far off at the time I wrote and recorded Millennial Thing.
It's gratifying that the music and message of Millennial Thing is as relevant now as it was when it was created and recorded with a solid blues backup band and production team who had the vision to offer up a timeless roots-rock-Americana feel that will hold up for years without being "dated."
It's receiving airplay that earns me royalties, and I'm blessed to have new fans discovering and wanting to hear and purchase the music. Thank you!
So, the "End of the World" on 12/21/2012 has come and gone. The ancient Mayan Calendar captured our mass- pop-culture-imaginations, and with all the mounting "apocalyptic" tension in world affairs since the 1940s, and weapons of mass destruction to make it possible - along with the USAs unprecedented polarized political climate since the Civil War of mid 1800s -- it certainly gave pause to consider the unthinkable.
Galactic Time
I was hanging with the hippies (brings to mind my favorite Dixie Chic song) when I was introduced to the Mayan Calendar and delved into a course of study, which was the inspiration for a number of songs and title of this CD. I came under the tutelage of "Starroot", a beautiful German-born world-folk artist who started an artists' community in Floyd, VA, near where I lived at the time. (One of her "day jobs" was playing the accordian in traditional German costume at festivals and conventions in the nearby city of Roanoke where I lived at the time). She and her husband Sparky (short for "Starsparks") were students and personal friends of Jose Argulles, an anthropologist and author who decoded the Mayan Calendar (which I understand there's been some controversy over, but that's another story which I don't really know).
As of today, all I learned about the Mayan Calender I've mostly forgotten, and my fascination with things "Galactic" is satiated by having watched back to back episodes of STAR TREK (I'm a late-bloomer Trekky - "Make it so, #1"), other newer sci-fi series like STARGATE, FARSCAPE, and scientific shows like Carl Sagan reruns of COSMOS, Steven Hawkings series; and, I confess, UFO documentaries. (If they're on Netflix I've seen them all!)
To me, the End of Time is the official start of a new era of human evolution. A wonderful documentary series called, ZEITGEIST (thank you Netflix) offers a vision of where we're headed (and what it is we're "coming out of").
Below is a poem/song lyrics which I found recently going through files written during my Mayan Calendar days, and gives a little history lesson of time (per Jose Argueles).
And, in the spirit of "Zeitgeist". I dedicate this poem to Galactic warriors and peace-keepers everywhere:

THE STORY OF TIME
Time was never on our side
because it's running out, you see
We've been hypnotized and mechanized
Locked in apocalyptic history

The people never question
They buy into the lie
that time is money, security, a pension
by punchin' a clock and countin' time

AND WHAT WAS ONCE SALVATION
HAS FALLEN OUT OF GRACE
A WORLD OF MECHANIZED SLAVE NATIONS
TO AN ARTIFICIAL 12-60 TIME OUT OF PLACE
The clock began in Babylon
into Rome, then Pope Gregory
said an hour was 60-minutes
for the rest of eternity

And the money barons liked it
And all the kings agreed
the new clock ensured their righteousness
and solidified their greed
AND WHAT WAS ONCE SALVATION
HAS FALLEN OUT OF GRACE
A WORLD OF MECHANIZED SLAVE NATIONS
TO AN ARTIFICIAL 12-60 TIME OUT OF PLACE
But their clock didn't follow reason
of the biological flow
of the 13 lunar seasons
and the cycle of galactic tones

Instead it bred nationalism
and a war economy
where democracy's an illusion
for what's been called equality

But there were Galactic time keepers
known as the Mayan Race
who were branded as heathens
by the soldiers and the priests

The people of learning were put to death
and the Mayan libraries burned
but the temple stones still hold the glyphs
so that to Galactic time we can return
And the stones will not be silenced
what greed did not erase
and the Earth will rise triumphant
out of artificial 12-60 time out of place

AND WHAT WAS ONCE SALVATION
HAS FALLEN OUT OF GRACE
A WORLD OF MECHANIZED SLAVE NATIONS
TO AN ARTIFICIAL 12-60 TIME OUT OF PLACE
(The music for this if forgotten, but probably in a box on a cassette tape somewhere. Perhaps it'll turn up one of these days).